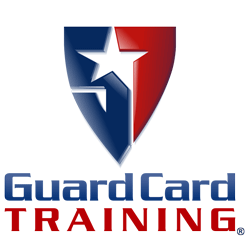 STC Guard Card Training®
Why spend months developing your own materials and then struggle with state agencies for approval? License training materials already approved for use in your state!
Developing cogent training materials takes time and experience. Add the complications of navigating state laws, regulations, administrative codes, training requirements, and minimum course times and it can be an overwhelming endeavor. Once course development is complete, there are still the onerous tasks of submitting the material, getting it reviewed and eventually approved by state regulatory agencies. All of these tasks must be completed before the first student can be trained, which can delay opening, and thus revenue generation, by months.
STC Guard Card Training® has already done all of the heavily lifting. Our world-class training materials have already been submitted to, reviewed by and approved by the required state agencies. They are ready to go "out of the box."
We offer a turn-key solution to licensed security guard card training. All the development, stress and approvals are taken care of. Just open the box and start teaching!
Printed Students Manuals
Professionally printed and bound manuals priced such that training facilities can give the manuals away to students. All material is presented in an easy to understand format using common language without industry jargon.
Student manuals include:
State regulations
State Penal Codes
Industry best practices
Charts and graphs
Photographs
Knowledge checks
Instructor PowerPoint Presentations
Designed to make even the most inexperienced lecturer look professional.
Reinforces key points
Compliments student manuals
Charts and graphs
Photographs
Knowledge checks
Final Examinations
Professionally crafted exams designed to challenge students and test understanding of key learning activities.
All examinations are compliant with local state testing guidelines and requirements.
Setting a National Standard for Guard Card Training
Many companies have highly trained and experienced individuals but either lack the teaching experience or materials to be able to impart the knowledge. For situations like these, Security Training Center,® LLC. offers pre-packaged training materials. Our team is comprised exclusively of educational professionals, many of whom hold advanced degrees in Adult Education and Training.
Security Training Center,® LLC. is a physical protection training company.
Our purpose is to educate individuals and organizations in early identification of potential problems, how to defuse conflicts before reaching crisis and in protective measures for unavoidable confrontations. Our staff and advisory board have decades of experience in military, law enforcement, executive protection, private security, defensive weapons and martial arts. Our instruction is worldwide with nearly one quarter of our students outside the United States.
We do not offer security protection services. Our focus is exclusively on providing the highest quality training and training materials in the private security industry.